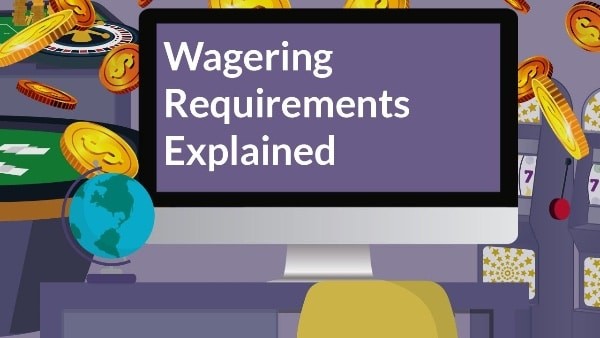 While a majority of online casinos add lucrative offers and bonuses to attract potential customers, there is a catch that defines them all. This is their respective "wagering requirements" which can be a mandatory evil. While big bonus offers and plenty of free spins are not fake, the fact that 99% cannot be converted into real money or cash is also true. Because of this, players must pay attention to a casino's wagering requirements, terms and conditions.
To figure out exactly about a wagering requirement or what does the term "wager" mean in the gambling language and how to beat wagering requirements, we must first define the term "wager".
We all know what an online casino is and how they work? Online casinos are internet websites of land-based casinos or only virtual casinos where you can pick up your favourite game of roulette or blackjack and play on a live table. An online casino is also one where you can play video slots against a computer for real money. The gambling industry is a vast ocean of casinos and games of money. The casinos can even have separate areas for betting on matches, sports like football, basketball, and so on. Today, there are hundreds of these sites and they generate billions of dollars per year in revenues. They all do this with the help of wagers, because of which we try to define these terms now.
What Does a Casino Wager Mean for Players?
When you have decided to bet at some online casino, you must go and register an account at a live website of that casino. Then, many casinos will offer you bonuses in terms of deposits that you can use to play different games on their website.
Because they offer you money, you cannot use it as cash but only for betting. A wagering requirement then comes as a condition for payers in order to activate this virtual money in your new casino's account. For example, a wagering requirement is the number of times players need to bet the bonus amount from their own money before it converts to real money and adds to your payment's account. Only then, you can withdraw this money into your account. Let us see a good example because it is easy to understand how this works.
Let us say a casino offers a bonus of "100% up to EUR50". Now, you have to deposit from your own money EUR50, and then you get an additional EUR50, because of a 100% bonus. Of course, it also means that even if you deposit more than EUR50, you only get up to EUR50. Because this additional EUR50 is bonus money, you don't see it as real money in your account.
Next, you can see that the casino has a term and condition that enforces an "x10 wagering requirement" on the bonus money, this means that you must use this EUR50 to place bets worth EUR500 on any game of your choice. Without doing this, it is not considered real money and you cannot withdraw anything. To calculate this figure, you must multiply the wagering requirement with the bonus money, which is EUR50 x 10 = EUR500 overall. Of course, some sites will allow you to bet on different games too, but tally an overall bet of EUR500.
What Are Wagering Requirements?
Now that we have a brief overview of what a wager is at a casino, let's understand it a little more. Because wagers for bets as people call them to vary from game to game, the wagering requirements vary from casino to casino either. For example, in some casinos, the wagering requirements might apply to both the money you deposit and the bonus money. This is an even more greedy approach by casinos.
That is, in line with the above-mentioned example, when you deposit EUR50 to the bonus money and make it EUR100, the "wagering requirements" would be x10 of EUR100 or EUR100 x 10 = EUR1000. That is, it clearly has a significant impact on the player because now they must play for a significantly large sum when they initially thought they have to invest just EUR50. So, even if they win something during the betting, they cannot withdraw that money. So, it is important to verify if players must place a wager on the bonus money or both, the "bonus" AND "your initial deposit".
They are always written as "x10" ten times, "x5" five times, and so on. But, why do these casinos give bonuses with wagering requirements? One obvious answer is profits and trapping ignorant customers, but is there another reason beyond it?
How to Beat Wagering Requirements?
If you want to know what are wagering requirements, you must understand some more terms.
"Bonus Money First" or "Deposit Money First" has the greatest impact because it matters whether players will play what first. If they play with bonus money first and win, they might forfeit it and withdraw. All without the need to wager.
Max bet for a wager is the next big idea. Here sadly casinos won't' allow players to place bets to clear the wagering requirements because they apply a different rule. Instead, they ask players to bet the maximum, often EUR5 per bet line or payline. So, selecting slots with lesser paylines means you can beat it without much risk.
The expiry date is another factor that comes to the rescue. Because most promos or bonuses will expire within a certain time period, you must be aware of it. Else, you will end up making big deposits and lose all benefits too. That is, you lose bonus money and offers.
Exempt slots are another way casinos restrict some players. Because not all slots contribute to wagering the same way, look for them wisely. For example, a slot may contribute just 50% of the money to the "wagering requirements". Go for one that contributes more. Avoid those that are exempt or contribute 0%.
Conclusion
Giving away free money is not good for the casino business and not giving bonuses or offers will drive away customers. Hence, there are wagers. Because wagers are the key we explain all that and even more. Only then you can have a complete understanding and bet wisely.