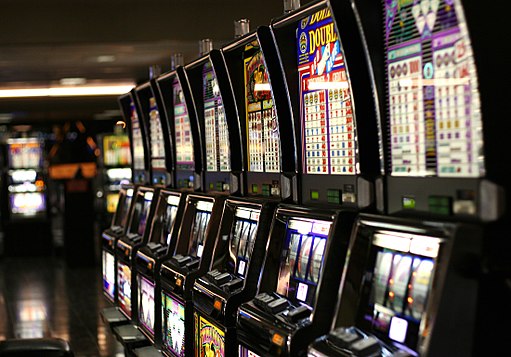 Slot machines have been around for more than 100 years. It has been one of the most popular attractions in brick-and-mortar casinos. Slot games appeal to punters because they are simple to understand and the rules are simple. So, anyone will be able to learn it within a few minutes. You just have to bet real money, click on the spin button, and wait for the outcome. Yes, it is easy to play. 
Even though it is one of the most popular casino games out there, not every player has a clear understanding of how it works. Thus, read on to find out how slot machines function and improve your winning chances.
Basic Gameplay of Online Slots
Playing slots mostly depends on your luck. Every slot machine comes with its own return-to-player rate. Hence, make sure that you are choosing the one that comes with a high RTP. Now, you have to study the paytable to find out what each symbol in the game pays. This way you will know what to look out for. 
By studying the paytable, you will also learn whether the game has any special features like Wild, Scatter, Multiplier Symbol, or Bonus Symbol. In case there is a bonus symbol in the slot, you will know that there is a bonus round in the game that could lead to free spins and cash prizes.
So, to play, you have to choose the amount of money you would like to bet. If the paylines are adjustable, you have to decide on the number of paylines you can play. Make sure you decide on a budget before spinning the reels. So, find much you can afford to spend. Also, stick to the amount that you decide. Slot games have a smaller jackpot usually pay out more frequently than the ones with a larger jackpot. Hence, if you want to win, you should aim for small.
Slot Machines Are Designed Around a Virtual Machine
A slot machine can work in all circumstances and this is mainly due to the math behind it. Even the oldest forms of slot machines used mathematics as a guide to selecting how much bigger reels have to be and where the icons have to be put.
The modern-day slot machines follow the basic reel idea but they use vectors for representing the reels. A slot game comes with a specific number of symbols that is between 10 and 15.
So, the game designers compose a group of virtual reels containing symbols. The length of the reel varies with the game. In a slot, the symbols have to be distributed in such a manner that you can find them more often than the others. The low-value icons land more often than the high-value symbols.
How Do They Work?
Slot machines have a minimum of 3 reels and each of them contains a certain number of symbols. A land-based slot machine has 20 or more icons per reel but digital technology enables a slot to have more than 200 symbols with millions or probable combinations.
Slot machines run on a random number generator which can generate thousands of numbers per second. These numbers are related to different symbol combinations. So, whether you are going to win or lose is decided by the random number generator when you activate each play. In case it matches a payline, you are going to win. As each spin is independent, unrelated and random to the future or the last spins, no one can predict what can happen in every play.
You will find different types of the slot machine. A few let you choose the number of payline you want to bet on and also the amount you want to bet. Before placing your bet, find out the cost per play, paylines, odds, return to players, and everything that will help in making the decision. Check the paytable to find out everything about the slot.
Odds of Winning and Payout
The odds of winning and possible payout of win depend on the slot machine you have chosen to play and the credit you bet.
Slot machines costing penning to play may pay out smaller prizes quite often. However, others might cost several hundred dollars per play but these slots provide you with a bigger jackpot.
Irrespective of the machine you want to play, the odds are going to favour the house. So, over time, it is more likely than not that a player is going to walk away with lesser money than you started with.
Slot Machines House Advantage
Slot machines can be programmed to pay out at lower or higher odds. But the typical house advantage for a slot machine is 8%. So, the average Return to Player Percentage is 92%. Hence, slot machines tend to be less favourable than table games like roulette or blackjack, with respect to Return to Players.
Myths Surrounding Slot Machines
Playing Longer Improves Your Odd
Persistence doesn't really pay off. Every slot machine is independent, unrelated, and unpredictable to what happened in the last play. A machine isn't due for a win and also it is not going to go cold following a win.
Machines Furthest from the Aisle Pay More
How often slot machines played don't have anything to do with how likely it is to pay out in the following play. Payouts decided by the preset machine odds and the unpredictable results of the RNG.
You Can Improve Your Chances of Winning at Slot Machines
A majority of the slots are game of chance and run on a random number generator. For a few machines, the special features and bonuses will give you the chance to influence the outcome. Even though skill is a factor, the random number generator decides if you will get to play the bonus game. Also, it decides the amount you will win from the slot. Hence, the chance is a prime part of the deal.
But, no matter the game you are playing, the casino will always have an edge in the long run with every game they are hosting.
FAQs
Does all slot machines have bonus rounds?
Almos all slot machines come with a bonus round or special feature.
What is minimum amount you need to bet in a slot?
The slot minimum betting amount varies with the game you choose.
Can I play slot for free?
Yes, sure you can try out demo versions of the game for free, at our site www.freeslots.pw
Try some online slots for free:
Check our all Free Online Slots